The Magic of Art
I love to bring a little magic and wonder into the lives of my collectors through my arts. I have always loved, enchanting places, fantasy worlds and all things magical. It's my hope that my art pieces will add some wonder and enchantment to your every days! 
NEW! Artisan Bracelet Designs
Standing Slate Stone Art Keepsakes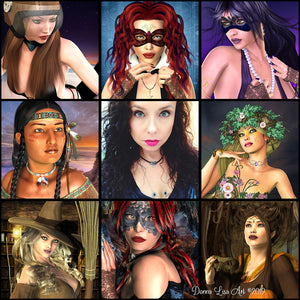 The Portraits
The Portrait collection features lovely arts of mysterious, intense and stunning ladies. This collection will  be available as prints and gifts very soon! Please join my newsletter to be the first to know when the full collection is available! 
~ Donna Lisa
Copyright Notice
All artwork displayed and sold on Donna Lisa Art website is ©2023 Donna Lisa Art. All rights reserved. Arts on this website may not be copied, reproduced, sold, or used for any purpose without permission of Donna Lisa Art. Purchasing artwork or gifts from this website does not transfer copyright to the customer/buyer. Donna Lisa will still hold copyright, unless legal licensing has been purchased.